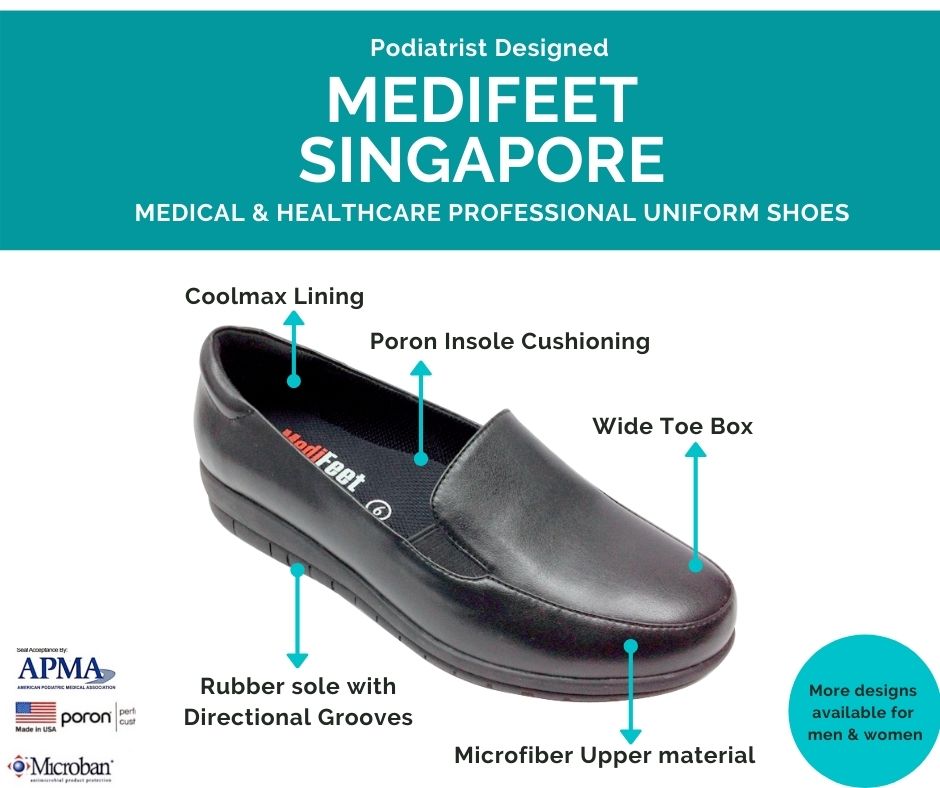 MediFeet Singapore is the exclusive official distributor for MediFeet, a manufacturer of Medical Podiatrist preferred footwear.
Nurses are on their feet for extended periods of time and need to walk frequently on the job. Our shoes are specially podiatrist designed for those in the Medical and Healthcare Department.  Some of the features of our professional shoes are:
• Anti-shock with PORON insole cushioning (PORON is a material used for the foot bed of every shoe for superior comfort)
• Orthotic system insole
• Breathable and Anti-fungal Coolmax Lining
• Bio-medically engineered with anatomical arch support
• Helps to align the foot properly, reducing foot pain and discomfort
• Soft, smooth interior lining to ease pressure and friction
• Light-weight sole to soften every step and alleviate stress on the joints
• Wide Toe Box to allow for more room for the forefoot
• Anti-slip – Rubber sole with directional grooves
Several healthcare staff who use our shoes have provided positive feedback on the suitability of the shoes for their job due to the long hours per shift.
We would like to extend our personalized fitting session for anyone who is interested to try a range of our professional uniform shoes.
If you would like to learn more about our shoes, please drop us an email at sales@medifeetsingapore.com or contact us at 83187091.